Fort Worth Truck Accident Lawyer
Get compensated for wrecks with big rigs, tractor-trailers, 18-wheelers and semis
Truck accidents wreak havoc in the Dallas-Fort Worth area. With so many major highways such as Interstate 20, I-30, I-35, I-45, I-67, 287, and Loop 820 running through the Fort Worth-Dallas area, it's not uncommon to see big rigs on roadways around the Lone Star State's busiest metropolitan area. It's not uncommon to see truck accidents or bus accidents in the Dallas-Fort Worth area, either. The injuries sustained in many different types of truck crashes can be serious or even fatal. To make matters worse, you might have done nothing wrong and be falsely accused of causing a serious crash.
A run in with a semi in Dallas or Tarrant county could be caused by a number of different factors. A fatigued trucker who falls asleep at the wheel could jackknife into oncoming traffic. An intoxicated trucker could swerve across traffic lanes and cause a head-on collision. No matter the cause, make sure you take strong legal action to protect your rights. Otherwise, you could miss out on valuable compensation you're entitled to.
Every second counts after a serious tractor-trailer wreck. Don't delay. Contact Coby L. Wooten, Attorney at Law, P.C., today. Experienced truck accident attorney Coby Wooten can meet with you and help you get your life back on track.
Attorney Wooten has a demonstrated track record of success in winning compensation for his clients for their injuries.
With offices in Fort Worth and Dallas, we're strategically positioned to respond rapidly to semi and 18-wheeler accidents throughout the DFW area. As an experienced truck accident lawyer, attorney Wooten knows how to determine what caused a wreck, what evidence to look for and what steps to take when investigating trucking companies to determine if they engaged in negligent behavior. We leave no stone unturned in pursuit of justice.
Truck accidents in Dallas and Fort Worth are often very serious
Semis, tanker trucks, delivery trucks, 18-wheelers, and other commercial vehicles are often much larger and heavier than passenger vehicles. A fully-loaded tractor-trailer can weigh as much as 80,000 pounds. As a result, catastrophic injuries can occur when one of these vehicles hits a smaller car, pickup truck or SUV. In addition to pain and suffering and lost wages, there may be significant rehabilitation or other ongoing treatment resulting in skyrocketing medical bills. Whether it was a T-bone, rollover, jackknife, head-on, underride, or sideswipe, a semi-truck accident might cause any of the following severe injuries:
Traumatic brain injury
Spinal cord injury or paralysis
Broken bones
or fractures
Amputation or
loss of limb
Fatal injury that results in
wrongful death
Understanding trucking companies and crashes
Determining the cause of a Texas truck accident can be extremely complicated. It's not just the driver that you need to worry about afterwards. It's the company that owns the truck, trailer, and contents themselves. It's also not uncommon for trucking companies to send someone to investigate the crash site within 24 hours of a collision. They immediately begin building their case and look for ways to minimize your case or claim and its value.
That's a major reason why you need an experienced Fort Worth truck accident lawyer on your side. Our trusted DFW injury law firm knows how to investigate complicated commercial vehicle accidents in Texas. We know what questions to ask and what evidence to look for to build a strong legal case. Level the playing field. Contact big rig wreck lawyer Coby L. Wooten, P.C. right now.
Attorney Wooten knows what questions to ask after a truck accident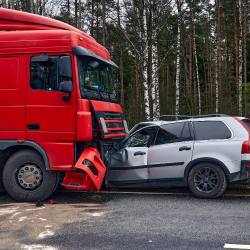 Tractor-trailer collisions often raise question after question about trucking companies. Was the vehicle poorly maintained? Was the trailer overloaded? Was the driver inexperienced? Did the trucker have a history of bad driving? And do the trucking company's records contain all that information? Or do the records look falsified?
Attorney Coby L. Wooten knows how to find the answers to your questions. He knows where to look for evidence of trucking company negligence. He understands that trucking companies in the state of Texas and throughout the United States are required to keep many different types of records. If you've been injured in a wreck with a semi or other large commercial motor vehicle (CMV), a qualified DFW attorney can examine those records and investigate to determine if the company followed the proper procedures or contributed to the crash.
How does Coby Wooten investigate trucking companies?
Commercial trucking companies are responsible for hiring trustworthy drivers, regulating their hours spent on the road, and to keep well-maintained trucks in their fleet. When a trucking company fails to do so and a serious accident occurs, they need to be held accountable for their actions. An experienced Dallas-Fort Worth area truck accident lawyer can:
Examine safety records of both the driver and tractor-trailer he or she was driving
Look for evidence of a driver's past alcohol or substance abuse problems
Assess driver fatigue through examining driving log
Collect crash evidence such as breathalyzer results, truck-stop security camera footage, or items in a driver's cab
Analyze all vehicle maintenance records available
Examine the vehicle's "black box" and GPS-locator, which may reveal speed and how long the driver had been on the road at the time of the accident
Commercial Texas truck accidents can be complicated. Contact us.
Whether you were injured in an accident involving a delivery truck or a tractor-trailer, you need to take aggressive action. Your case is about more than just money. It's about justice. It's about holding negligent parties responsible for their actions. Take a stand. Contact Coby L. Wooten, Attorney at Law, P.C., today to speak with an attorney you can trust. Call (866) 408-0940 to schedule a free appointment at our Fort Worth office. We can also meet with you in your home, your hospital room or anywhere that's convenient for you. We proudly serve injured victims and their families in Fort Worth, Dallas, Arlington, and throughout Texas.